By Melissa Donovan
The International Sign Association (ISA) held the ISA Sign Expo in Las Vegas, NV this April. The show attracted 600 exhibitors and around 19,000 attendees from all over the world. Located at the Mandalay Bay Convention Center, announcements ranged from first-time reveals of robust printers to new additions to existing media lines.
Visitors followed the main aisle, designated by a pink carpet, to find the products and solutions that were a fit for their businesses. The show itself was a living example of the possibilities of print. On the same pink carpet, graphics showcasing a map of the show floor acted as wayfinding signage, while simultaneously proving the potential of unexplored sign space.
Banners hung from the ceiling with aisle markers, in addition to larger hanging displays promoting products from a number of vendors. The wildly popular silicone edge graphic (SEG) frames were in full effect, with various systems and fabrics married together in different segments of the floor.
Breaking Announcements
Agfa Graphics debuted two printers, the Jeti Mira and the Jeti Tauro. The Jeti Mira is a true flatbed printer, whereas the Jeti Tauro is a hybrid configuration. Both printers target the high-end sign and display market.
Canon Solutions America promoted its Océ ColorWave line, in addition to the Océ Arizona flatbeds, in its booth. The company recently added several new Océ ColorWave printers to the portfolio. Of note, the Océ ColorWave 700, which is equipped to print on thicker media, allowing for applications like wallpaper, color posters, disposable point of sale, and canvas—all on one device.
Durst Image Technology US LLC launched its Rhotex 180 TR for the first time in North America. The soft signage device is ideal for sportswear, home textiles, and point of purchase. At 72 inches, it offers a maximum print speed of 2,150 square feet per hour.
Epson premiered its enhanced SureColor S-Series of solvent, 64-inch printers. The SureColor S30675, S50675, and S70675 replace their predecessors and offer reformulated ink chemistry and an improved take-up reel system.
Hewlett-Packard (HP) announced several new printers. On the floor was the new HP Latex 370, now available with the HP Latex Mobile App. In addition, the HP Scitex FB750 and HP Scitex FB550 were displayed, they accommodate tabletop roll holders, which allow for easy change over between rigid and roll media. The HP PageWide XL 8000 made its debut. It offers high-end production printing and is capable of running up to six rolls of media to sustain productivity.
InkTec America Corp. showcased roll-to-roll Jetrix RX3200/RX5000 UV printers. Designed for indoor and outdoor graphics, InkTec UV ink offers excellent adhesion and vibrant colors.
Media One promoted its Telios G5. In tandem with the printer, it showcased the Barbieri Color Management Solution, which works to manage color on fabrics all the way down to the fibers. The Matic Cronos sewing system was also on display, equipped with a four millimeter silicone guide for creating SEG frames. Sister company, Berger Textiles, promoted the be.tex Flash backlit textile, ideal for SEG.
Mimaki USA, Inc. brought the new CFL-605RT compact flatbed cutting plotter to show for the first time. The device supports reciprocating, tangential, and eccentric cutting, in addition to a creasing roller and vacuum system.
Mutoh America, Inc. introduced three new printers. The ValueJet 1628X offers white and metallic printing using Mutoh Eco-Ultra ink. The ValueJet 628X utilizes DropMaster ink technology, which is Mutoh's newest version of its Smart Printing Technology. Lastly, the company enters the direct to garment space with the new ValueJet 405GT water-based printer.
Roland DGA Corporation's booth was outfitted with a variety of new hardware. Its VersaUV LEJ-640FT showcased printing on specialty products up to six inches thick. The Texart RT-640 printer was running with Texart SBL3 water-based ink. It also showcased the CAMM-1 GS-24 cutter, which offers increased cutting power over its predecessor, allowing it to cut through thicker substrates like magnets.
Seiko I Infotech previewed a 104-inch printer it plans on launching in Fall 2015. The new device is equipped with SX eco-solvent ink.
Till 2016
Next year, the ISA Sign Expo is in Orlando, FL April 20 to 23. See you there!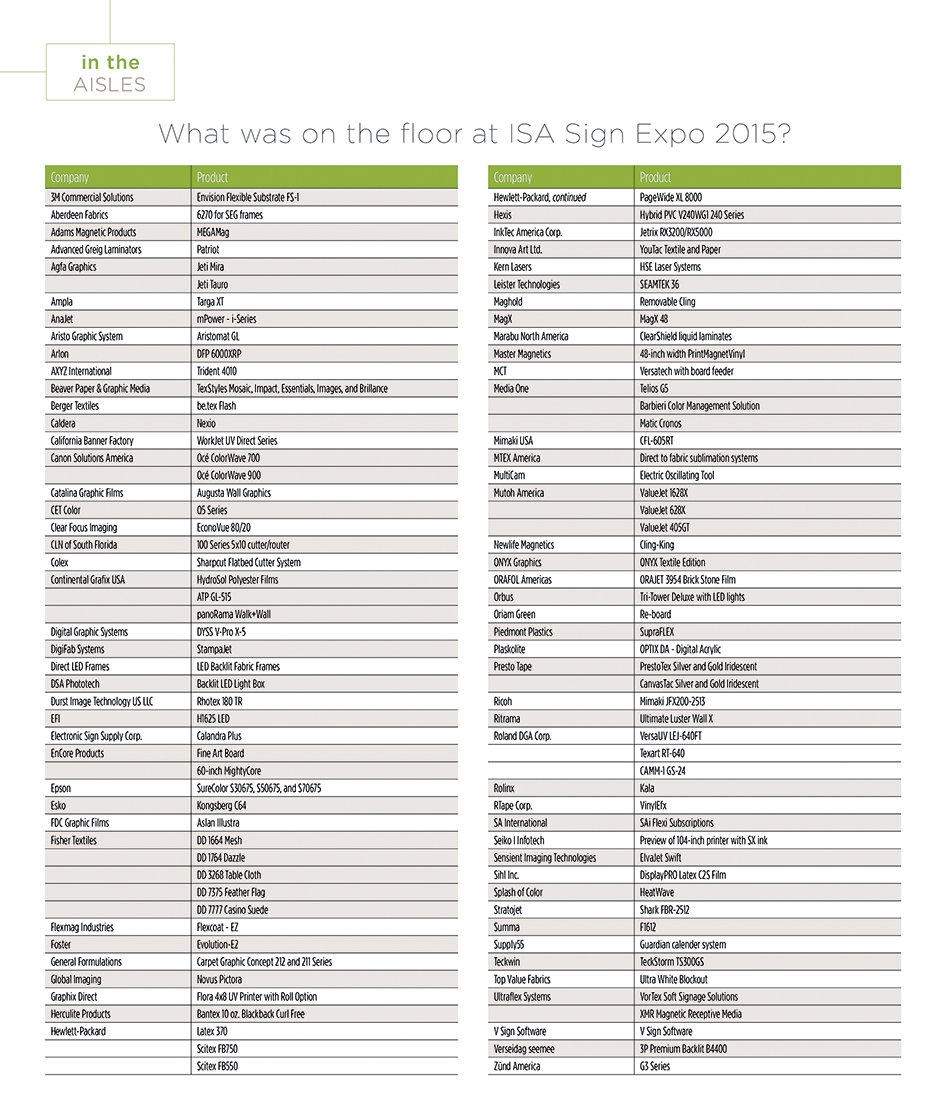 Jun2015, Digital Output ISARecap2015