By Lisa Guerriero
Print service providers (PSPs) buy equipment and supplies every day, including hardware, software, ink, and media. Many acquire products through a distributor instead of an original equipment manufacturer (OEM). Suppliers provide discounts, fast service, and product variety while offering personalized attention, which often builds a loyal relationship between print provider and distributor.
Offers and Support
There are many ways distributors help PSPs. Purchasing from OEMs may be inexpensive for large orders, but in the long run, it usually doesn't benefit the print provider, suggests Michelle Hayes, digital account executive, N. Glantz & Son. "The lower cost of buying direct does not always mean a lower cost of the overall job. By buying direct, PSPs miss out on the value-add of doing business with a service-oriented company like Glantz. Saving a few dollars upfront may result in an overall profit loss," she continues.
Suppliers offer opportunities for cost savings, and customize discounts to suit a print shop's unique needs. "Denco Sales often creates special promotions and bundles that are unique to Denco and not offered by the manufacturers, and our local proximity allows our service teams to support customers when manufacturers cannot," says Patrick Mikes, marketing communications coordinator, Denco.
Bulk discounts, consignment options, and payment plans are also available. "We offer extended warranty contracts that bundle in supplies to maximize the benefit to the PSP," notes Clint Fox, president, 360 Digital Imaging Solutions.
Distributors often specialize in one or two manufacturers, but still carry other brands. Suppliers say print providers benefit from the diverse options. "In most cases, a good distributor can not only give the customer the attention it deserves, but can offer a wider variety of solutions from more than one OEM source," points out Pete Ordway, president, Ordway Sign Supply, Inc. "The distributor can draw from several manufacturers that may have solutions to better fit the need of the PSP consumer."
Suppliers prioritize purchase and delivery, often starting with the convenience of online ordering. Some, especially those who ship regionally, offer same day or overnight shipping. Regional suppliers may also ensure reliability by hand-delivering orders instead of using third-party shipping.
Nationwide suppliers often rely on localized warehousing and sales teams to ensure quick deliveries and better service. "We have knowledgeable customer service representatives manning the toll-free order line and local sales representatives in each city that we have a location," notes Stacy Clausen, VP of marketing, Fellers.
Delivery is also an opportunity to reduce a customer's operating expenses, according to some suppliers. "The bigger aspect of delivering product to customers, in our opinion, is the efficiency of this process. We try to explain to our customers the advantage of bigger orders to save on freight and lead times. On commodity products, freight is the last place for a customer to save money," explains Mark Snelling, partner, Hasco Graphics, Inc.
Graphic Solutions Group (GSG) harnesses order data and returns it to customers as business insights. "GSG has a host of analytic reports available to help customers analyze purchase patterns and streamline their supply chain, thus lowering the total cost of product acquisition," says Rodney Williams, VP sales and marketing, GSG.
Many suppliers consider technical support a key part of what they offer, just as much as discounts and product bundling. They often employ technicians to install new equipment, and some handle long-term maintenance and service as well. "We have a technical support team to provide equipment installs and repairs, as well as phone support for technical-related issues," notes Wendy Stanley, marketing manager, Advantage Sign & Graphic Solutions.
Support doesn't end when the sale is made. PSPs often receive troubleshooting as part of customer service to help reduce errors and waste. "We constantly update our knowledge and know-how through various training and courses to provide our best technical answers that help customers solve their problems," comments Hans Tsai, representative, customer care department, Premier Colour Inc.
Suppliers know their customers' business, so they're in a position to offer product recommendations and installation tips. "Our hardware representatives work with PSPs to make sure they have the best equipment for the jobs they handle, and bring them in for test printing and equipment demonstrations on our floor. We look forward to any interaction we can get with our PSPs, and look for any possible avenues to better serve them," says Andy Downs, marketing director, North Light Color.
Piedmont Plastics has a dedicated graphics specialist team consisting of six employees with knowledge of all different print technologies and media. "Each specialist offers regional support to their designated group of branches providing consistent nationwide coverage and availability. They work together with the branches and customers to ensure the best media is matched for the application and print technology," shares Gary DiFazio, graphics market manager, Piedmont Plastics.
William Lescarbeau, president, D&P Media for Print, Inc., says working closely with longtime customers gives his company insight on new products, which they pass on to other clients. "We provide products and advise all print providers using wide format inkjet on the many ways to produce the highest quality displays," he notes.
Understanding customers also allows distributors to tailor offerings to benefit PSPs. They aren't restricted to one solution because they work with multiple OEMs and brands. "We stay up-to-date on the latest offerings and advances in technology offered in the industry, allowing us to provide optimal solutions to each customer's specific needs and goals," explains Michael Snyder, GM, Axiom America.
Distributors also act as advocate for the buyer, helping resolve any issues that may arise. "Resellers will go out of their way in order to help resolve a customer issue. We realize the more successful our customers are the better we look," observes Howard Gerson, president, BestBlanks.
Purchasing Power
Suppliers work closely with PSPs, offering financial incentives as well as customer support. Multiple brands under one roof, quick shipping and delivery, and support whether technical or to simply ask about the best product for the job are all reasons to consider working with a distributor.
Distributors distinguish themselves by market niches, services offered, and geographical areas covered. Get an idea of the distributors near you by referencing the graphic below.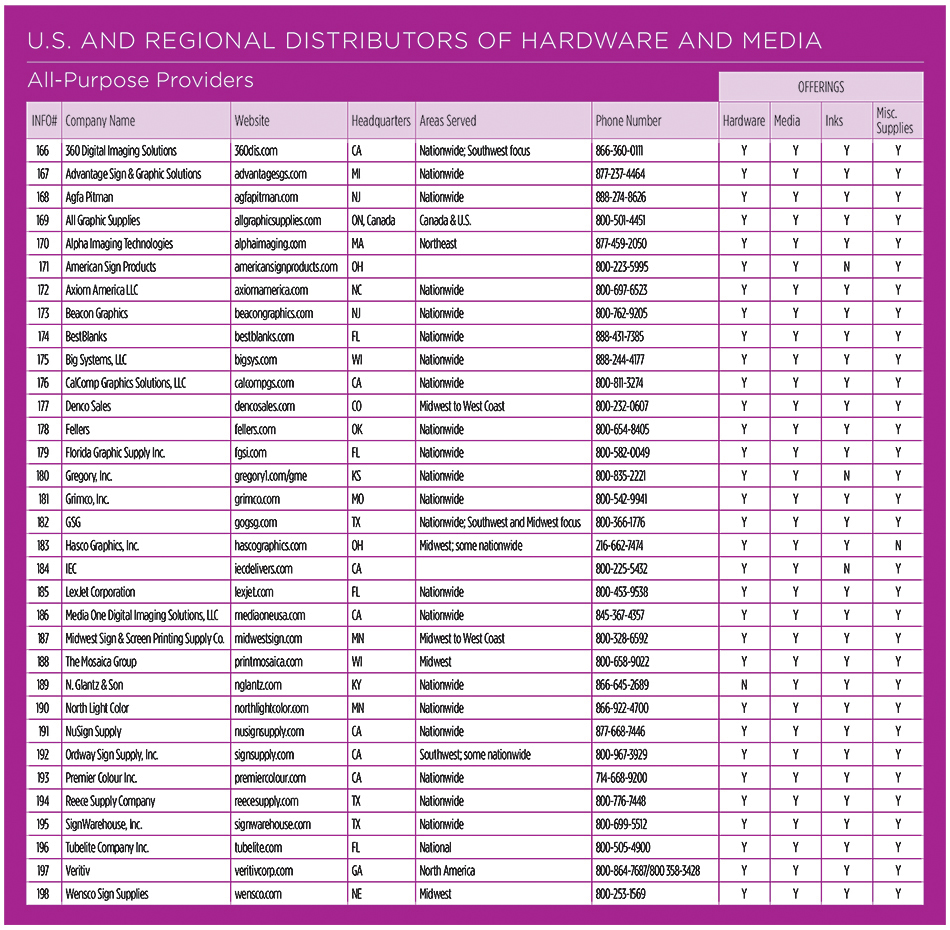 Jun2015, Digital Output